THE NOSTRADAMUS OF NOCAM
= THE FIRST TRUE DECIPHERING
= THE FUTURE PLANETARY CATACLYSM OF XXIIIth CENTURY
= NOSTRADAMUS, A RATIONAL PROPHET

TITLE OF THE BOOK : « NOSTRADAMUS, FIRST DATED DECODING : THE ANNOUNCED CATACLYSM by his Prophecies (Centuries and Sixains) »
AUTHOR : NOCAM
PUBLISHER : KAPSOS ÉDITIONS
Publication : November 1998
End of writing by author : 16 Février 1998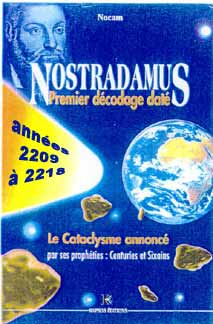 • Chronologies of Nostradamus for beginning and end of the world.
• All dated and explained Sixains with their twofold prédiction : about XVIIth century and about Cataclysm of XXIIIth.
• Dated Quatrains about Cataclysm.
• Already realised Quatrains and Présages.
And beyond this future cataclysm, a big apprehension about a conflict around the year 2000 because of Middle East. (« the Holy Land will be attacked by unbelievers from North just before year 2000, and greater war just after »)
First true decoding of dates and chronologicals parameters in the work of Nostradamus. Discovered cipher-keys lead :
1 / to quatrains in the past time, with decoded dates, with a confirmed text by History, that proves the validity of decoding.
2 / to the future planetary cataclysm, that were already announced after a symbolic manner by Saint John in this Apocalypse.

So we discover in Nostradamus the size of a Prophet; and this prophet is a rational prophet, because he indicates all the dates !
BOOK : 272 pages - Paper-bound
16 cm x 24 cm
Diagrams and panels
EAN : 9.782910056001
Price with the tax in France : 24 Francs
KAPSOS ÉDITIONS, 2 rue de Welwyn, 95660 Champagne sur Oise; FRANCE.
Distribution by LUX Diffusion, ferme Saint-Blaise, 67210 Valff

TO PROCURE THE BOOK
Actually only in french version (available in stock) :
1 / you can put in an order by your library
2 / quickly, your order directly to KAPSOS sending a cheque :
* France : 160 French Francs (carriage free)
* Europa : 29 Euros (4,61 E of charges)
* World (outside Europa) : 32 Euros (7,61 E of charges)
Cheque : specified « KAPSOS EDITIONS », and to address : « 2 rue de Welwyn, 95660 Champagne sur Oise, France ».
No forget name and address to send the book (+ phone).
3 / If you are a library, your order to SOLEILS Diffusion, after agreement by phone or fax.